Our sixth annual survey of Central Ohio family businesses revealed that more than two in three (64.8%) family businesses plan to increase hiring in 2017. While the scarcity of finding qualified workers remains the top concern among family business leaders (34.9%), a significant number of respondents said competition is the most pressing challenge to their business (26.7%).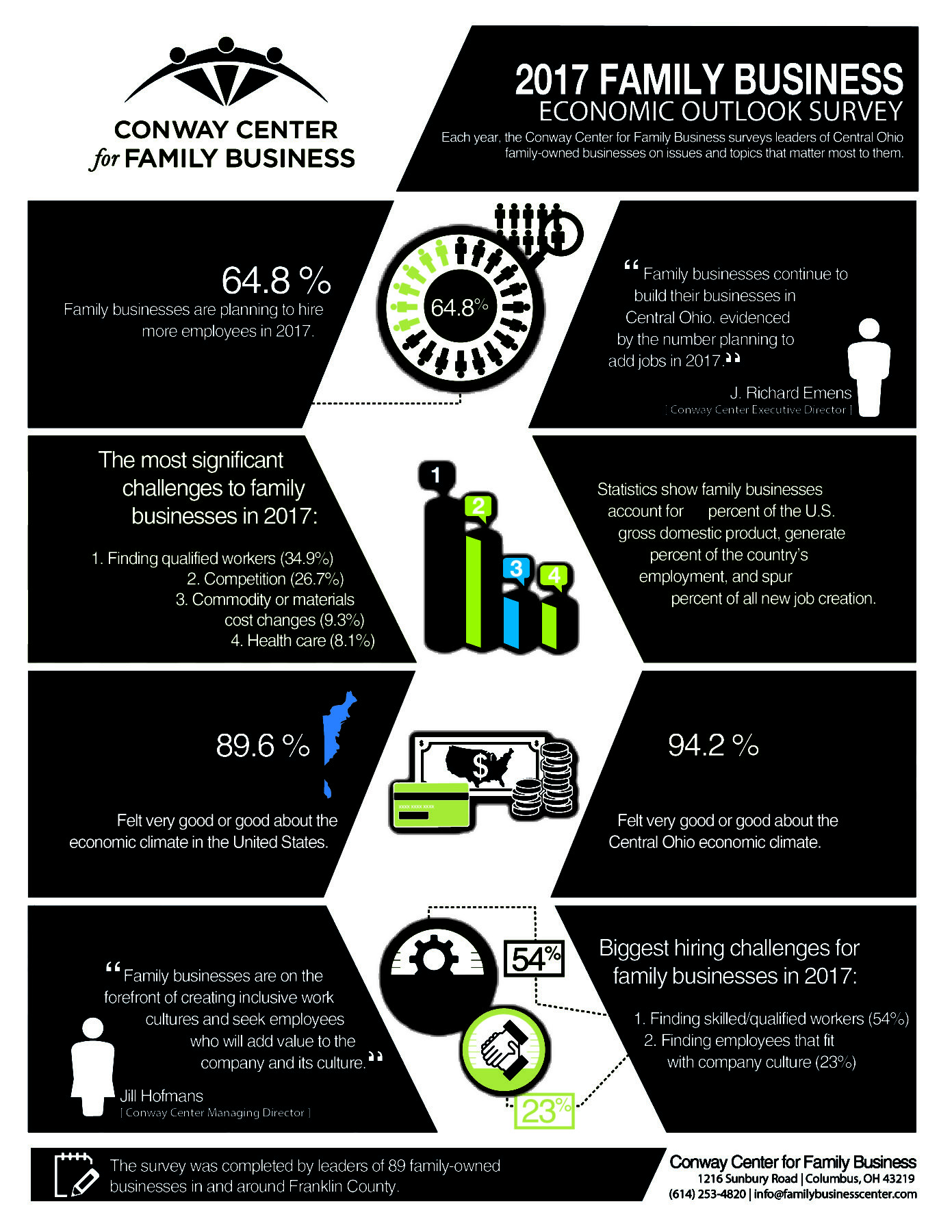 The Conway Center fields the survey annually to gauge the economic climate including employment and related challenges among family businesses in the region.
Optimism Regarding Economy Remains High, Particularly in Central Ohio
A growing number of family business leaders are particularly optimistic about the health of the national economy. More than one in 6 (16.3%) feel very good about the 2017 economic and business climate in the United States, up from one in 10 (9%) in 2016. Overall, 89.6 percent felt very good or good about the economic climate.
Comparatively, nearly double the number of leaders were optimistic that the business climate in Central Ohio will be very good (32.6%) in 2017, although that number is lower than in 2016 (42.4%). Overall, 94.2 percent felt very good or good about the Central Ohio economic climate in the coming year.
Competition within their industry is a rising concern for family business leaders. More than one in four (26.7%) said that competition is the most significant challenge to their business in 2017. More than eight in ten (82.5%) said sales forecasts/volume will be the biggest factor that will impact their decisions to increase or decrease employment, with health care costs (35.1%) and compensation (31.6%) also being top factors in hiring decisions.
Family Owned Businesses Drive Job Creation
Family businesses continue to build their businesses in Central Ohio, evidenced by the number planning to add jobs in 2017, said J. Richard Emens, executive director of the Conway Center for Family Business. This continues a very positive trend over the past five years in terms of hiring.
Statistics show family businesses account for 64 percent of the U.S. gross domestic product, generate 62 percent of the country's employment, and spur 78 percent of all new job creation.[1]
"Family businesses are bullish about building a thriving company in Central Ohio," Emens said. "Many will be adding employees this year, which is a leading indicator for our region's economy. At the same time, they are working hard to find qualified candidates to fill specific roles, especially in skilled trades. This remains a top concern for family businesses and an emphasis for our work at the Conway Center."
Finding Qualified Workers, The "Right Fit" Remain Difficult
Asked about their top challenges, more than one in two (54%) survey respondents cited finding qualified workers. While it remains high, this is down from 65.9 percent in 2016 and is the first time it has decreased in three years.
"Training, retaining and attracting skilled and qualified workers remains a priority for our region," Emens said. "Employers continue to face this challenge, despite the region benefiting from an educated workforce and diverse industry base. This suggests that our region needs to continue emphasizing training and retaining talent, and finding new ways to recruit talent to Central Ohio."
More than two in ten (23%) survey respondents indicated that finding employees that fit within their company culture is the biggest hiring challenge. They cite struggles to find employees that embody the values and culture they've created and nurtured within their family business.
"Family businesses are on the forefront of creating inclusive work cultures and seek employees who will add value to the company and its culture,"said Jill Hofmans, Conway Center managing director. "They look for employees who understand that intangible benefits – flex time, work-life balance and a family-like atmosphere of caring for all employees – add value that can't be calculated in a salary package.
Costs related to health care law and commodity or materials costs continue to be ranked among the top four issues for the fifth consecutive year. In addition, 8.1 percent said health care law costs would be their most significant challenge, down from 12.9 percent in 2016. Finally, almost 10 percent expect commodity or materials cost changes to be their biggest challenge in 2017, virtually unchanged from 2016.
Click here for a pdf of the full survey.
[1]Astrachan, J.H. and Shanker, M.C. (2003), Family Businesses' Contributions to the U.S. Economy: A Closer Look.
————————————————————
Survey Details Key Question Breakout
Do you plan to increase hiring this year?
Yes (64.8%)
No (22.7%)
I don't know at this time (12.5%)
How many employees do you plan to add to your payroll in 2017?
1-10 (84.2%)
10-15 (5.3%)
15+ (8.8%)
What do you believe is the most significant challenge to your business in 2017?
Finding qualified workers (34.9%)
Competition (26.7%)
Commodity or materials cost changes (9.3%)
Health care (8.1%)
What is your biggest hiring challenge?
Finding skilled/qualified workers (54%)
Finding employees that fit with company culture (23%)
The survey was completed by 89 family-owned businesses in and around Franklin County.