2019 Central Family Business Forecast Shows Central Ohio Family Businesses Bullish on Regional Economy; Expect to Increase Hiring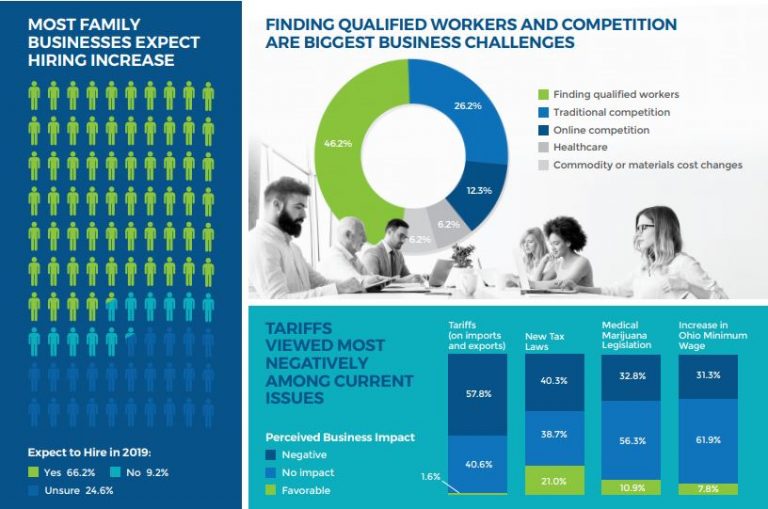 The (66.2%) of family businesses surveyed plan to increase hiring in 2019, similar to last year. The Conway Center fields the annual forecast to gauge the economic climate - including employment and related challenges - among family businesses in the region.
"Family businesses continue to grow in Central Ohio, as evidenced by a strong majority expecting to add jobs in 2019," said J. Richard Emens, President of the Conway Center for Family Business. "This continues a very positive hiring trend we've seen over the past seven years, with most family businesses indicating they'll hire."
Finding qualified workers remains the top concern among family business leaders (46.2%), while concerns about competition are increasing, both from traditional and online sources.
Family Businesses Bullish on Local Economy, Less So about National Economy,
Family business leaders remain optimistic about Central Ohio's business climate with half 50.0% feeling "very good" (the highest rating). This is down slightly from last year (57.5%) but still significantly ahead of 2017 (32%).
Nationally, perspectives are more moderate. Just over one in four (27.7%) respondents feel "very good" about the economy, a figure that has declined by more than 20 percent from 2018, when nearly half (48.25%) felt "very good."
Sales forecasts and volume continue to drive the positive economic outlook and decisions to increase employment. Nearly three-fourths (74.4%) said sales forecasts/volume will be the biggest factor that will impact their decisions to increase or decrease employment, with compensation (39.5%) also being a major factor in hiring decisions.
New Tariffs, Wage Laws Expected to Impact Family Businesses; Medical Marijuana Less So
Family business leaders were asked how recent national and local issues will affect them.
Nearly half (47.8%) viewed new tariffs on imports and exports has having a significant or somewhat negative impact, while 40.63% thought they would no impact.
New tax laws are more positively by family businesses. Only 4 in 10 (40.3%) of respondents felt new tax policies beginning in 2019 would negatively impact their business. Two in ten (20.97%) felt the new laws would have a positive impact, while 38.7% say they will have no effect.
Slightly more than 6 in 10 (60.9%) family business leaders feel the Ohio minimum wage increase would not impact their business, while 30.3% felt it would have a negative impact. Only 6.3% felt it would be beneficial.
On a social issue, medical marijuana legislation, more than half (56.3%) of respondents felt the new legislation would not impact their business, while 1 in 3 (32.8%) felt it would negatively affect them in some way.
Competition Growing - Off and Online
Competition remained (20.9%) the third largest factor for hiring decisions, while "healthcare costs" reached a three-year low at (14.0%).
Industry competition is an overall concern for family business leaders. Nearly four in ten (38.5%) said that competition is the most significant challenge to their business in 2019. Traditional competition accounted for 26.2% of these responses, while 12.3% of responders specifically cited online competitors. This was the first year online competitors were included in the survey.
Finding Qualified Workers, "The Right Fit" Remain Difficult
Asked about their top hiring challenges, more than half (56.9%) of the survey respondents cited finding qualified workers. Finding employees that fit with the company culture (24.6%) is another major challenge.
One respondent summed it up nicely for many of our family business leaders: "The shortage of workers is industry-wide - causing quality and schedule issues that we have never seen before."
"For five consecutive years, this has been the biggest challenge for family businesses in Central Ohio," said Jill Hofmans, Conway Center Executive Director and Vice President. The Conway Center continues to address this issue through educational programs and by tapping our service provider experts to help family businesses attract, train and retain top talent."
"Our members use a range of techniques - online job listings, employee referrals, recruiters and internal promotion to source employees. The intangible benefits - flex time, work-life balance and a family-like atmosphere of caring for all employees - add value that can't be calculated in a job description."