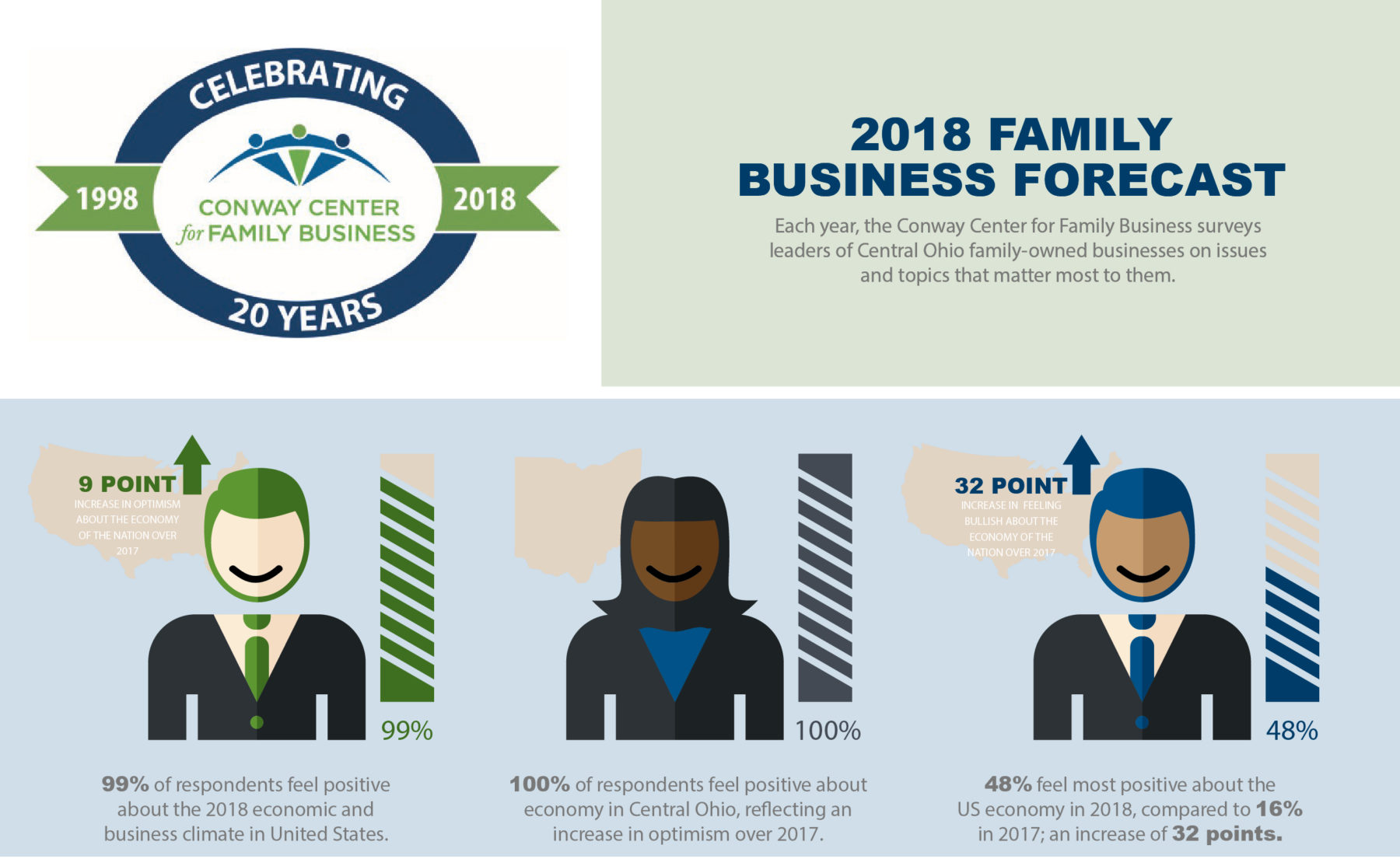 The seventh Annual Family Business Forecast, conducted by the Conway Center for Family Business, revealed that nearly seven in 10 (69%) family businesses surveyed plan to increase hiring in 2018. While the scarcity of finding qualified workers remains the top concern among family business leaders (52%), the next highest reported challenge to their business is competition (22%).
The Conway Center fields the annual Family Business Forecast to gauge the economic climate – including employment and related challenges – among family businesses in the region.
Optimism Regarding Economy Remains High, Particularly in Central Ohio
Family business leaders are more optimistic about the economic and business health of the national economy than in years past. Nearly all respondents (98.75%) feel very to somewhat good about the U.S. economic outlook. This is a nearly 10-point increase from 2017 (89.6%).
Similarly, family business leaders are optimistic about the business climate in Central Ohio (100%) with a majority choosing the highest rating of "very good" (57.5%). This, too, reflects an increase in optimism over 2017, when only 32 percent chose the highest, or most optimistic rating.
The bullish outlook on the economy translates to an increase in plans to hire. Family business leaders indicated an increase in hiring in 2018, with nearly seven in 10 (69%) planning to add employees, compared to 64% in 2017.
Competition within their industry is a concern for family business leaders. More than one in five (22%) said that competition is the most significant challenge to their business in 2018. Nearly eight in 10 (79%) said sales forecasts/volume will be the biggest factor that will impact their decisions to increase or decrease employment, with compensation (40%) also being a factor in hiring decisions. For the first time in several years, health care costs did not make the top three concerns (26% in 2017 and 2018) regarding hiring limitations.
Family Owned Businesses Drive Job Creation
"Family businesses continue to grow their businesses in Central Ohio, evidenced by the number planning to add jobs in 2018," said J. Richard Emens, President of the Conway Center for Family Business. "This continues a very positive hiring trend we've seen over the past six years, with more family businesses indicating they'll hire."
Statistics show family businesses account for 64 percent of the U.S. gross domestic product, generate 62 percent of the country's employment, and spur 78 percent of all new job creation.[1]
"Family businesses are bullish about building a thriving company in Central Ohio," Emens said. "At the same time, they continue to work hard to find qualified candidates to fill specific roles, especially in skilled trades. This remains a top concern for the fourth year in a row for family businesses, and the Conway Center continues to address this issue with members in our educational programs."
Finding Qualified Workers, "The Right Fit" Remain Difficult
Asked about their top challenges, almost half (49%) of the survey respondents cited finding qualified workers.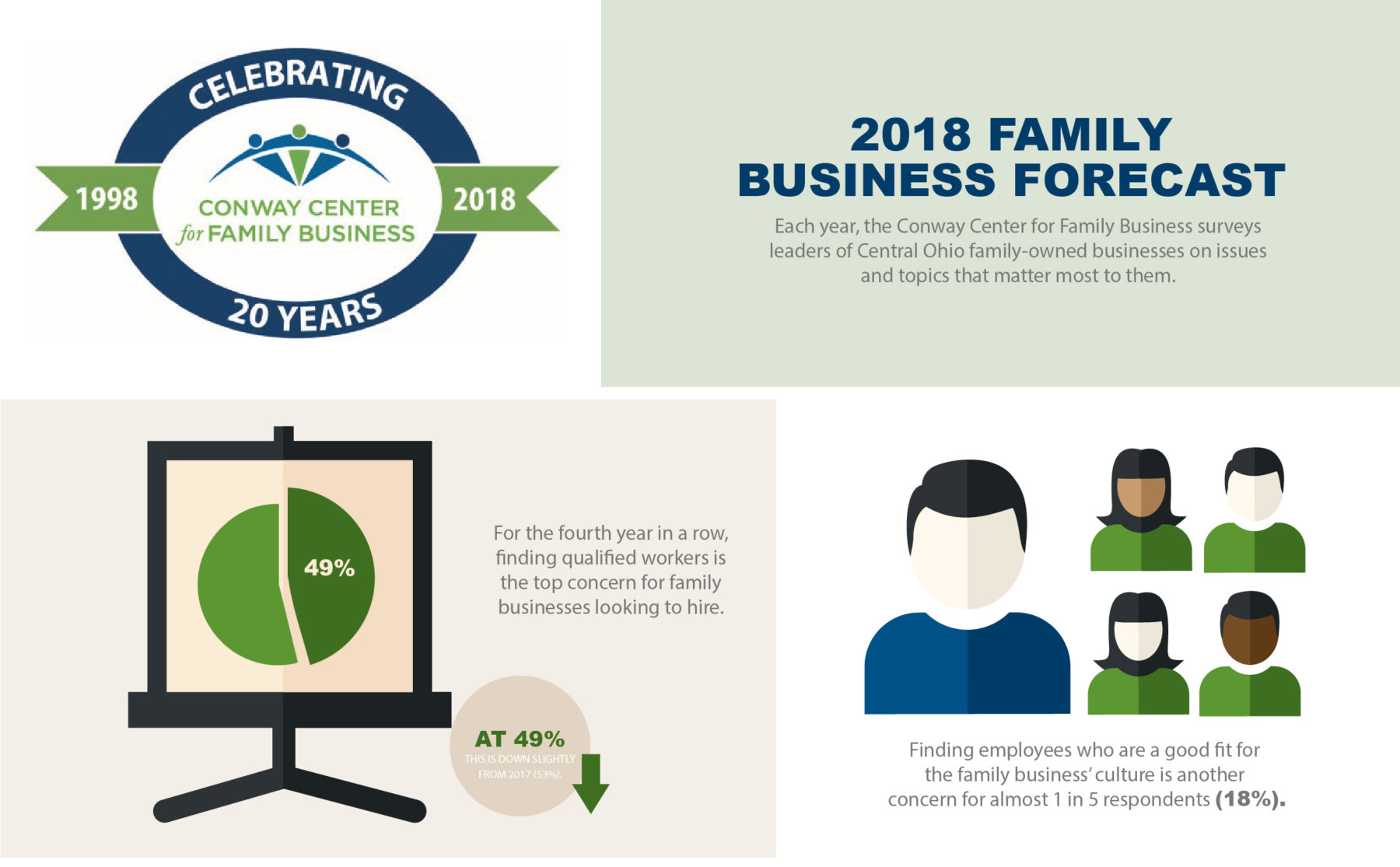 "Most industries across Central Ohio continue to struggle with attracting skilled and qualified workers," Emens said. "Our family business members are affected by this challenge and we continually tap our service provider experts to help them utilize their unique family business dynamic to attract, train, and retain top talent."
Finding employees that fit within their company culture is the biggest hiring challenge for 18 percent of the survey respondents, coming in second in the list of challenges to hiring. They cite struggles to find employees that embody the values and culture they've created and nurtured within their family business.
"One respondent summed up the challenge nicely for many of our family business leaders: 'Finding skilled workers who are dedicated and willing to work hard in a small (family) business' is a top concern. Indeed, we get a lot of requests from members for programs on creating and nurturing company culture, how to recruit and hire for the long term, and leadership development," said Jill Hofmans, Conway Center managing director. "Our members are looking for employees who understand that family businesses work hard and expect non-family employees to have an 'ownership' attitude as well. The intangible benefits – flex time, work-life balance and a family-like atmosphere of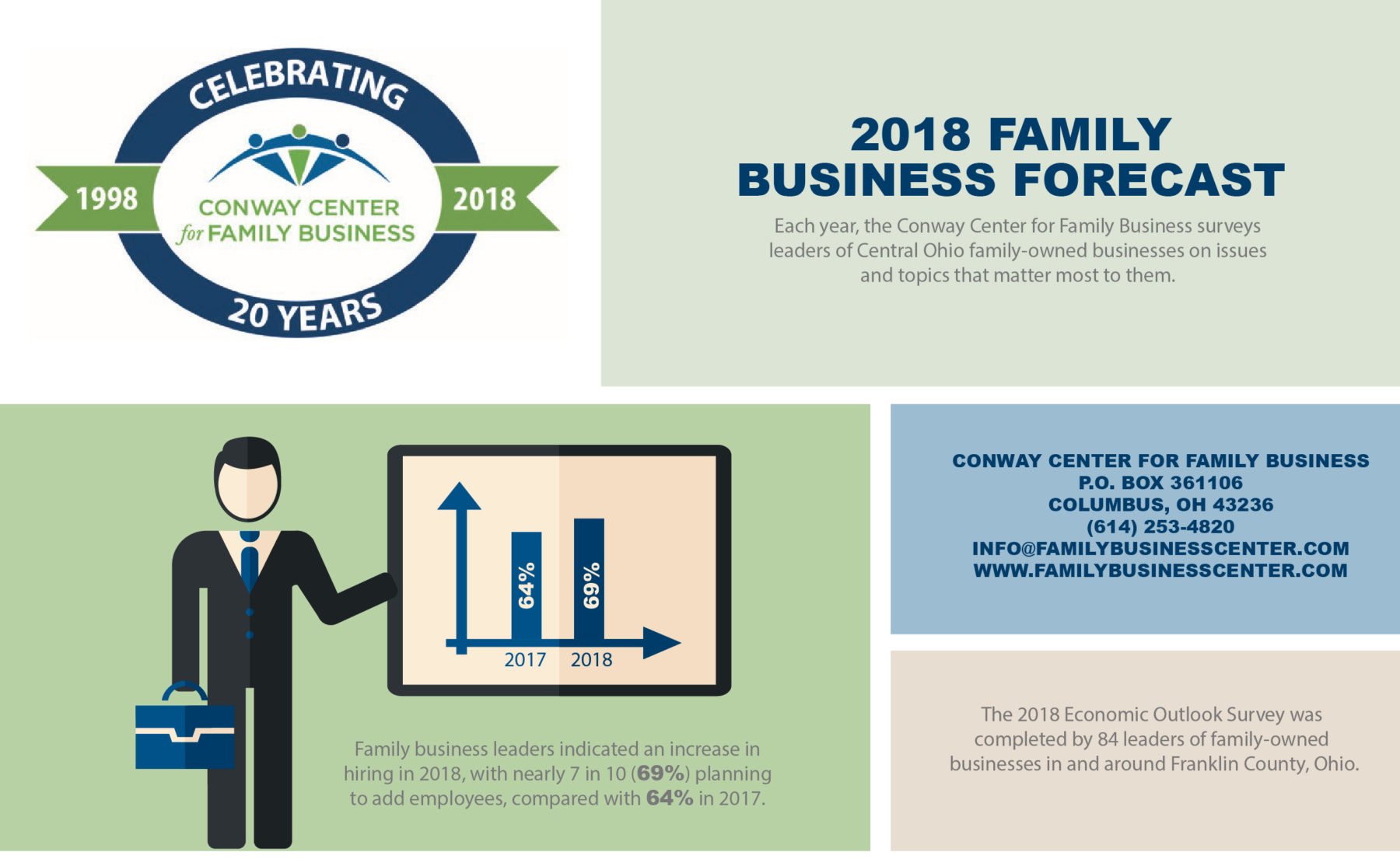 caring for all employees – add value that can't be calculated in a job description."
[1] Astrachan, J.H. and Shanker, M.C. (2003), Family Businesses' Contributions to the U.S. Economy: A Closer Look.
Survey Details – Key Question Breakout
Do you plan to increase hiring this year?
1. Yes (69%)
2. No (11%)
3. I don't know at this time (20%)
How many employees do you plan to add to your payroll in 2018?
0-2 (33%)
3-5 (34%)
5-10 (19%)
10-15 (5%)
15+ (7%)
Don't know (2%)
What do you believe is the most significant challenge to your business in 2018?
Finding qualified workers (52%)
Competition (22%)
"Other" (22%)
What is your biggest hiring challenge?
Finding skilled/qualified workers (49%)
Finding employees that fit with company culture (18%)
Competition for skilled laborers (9%)
Other (24%)
The survey was completed by 84 family-owned business leaders in and around Franklin County.