Optimism in Local Economy Rebounds Among Central Ohio Family Businesses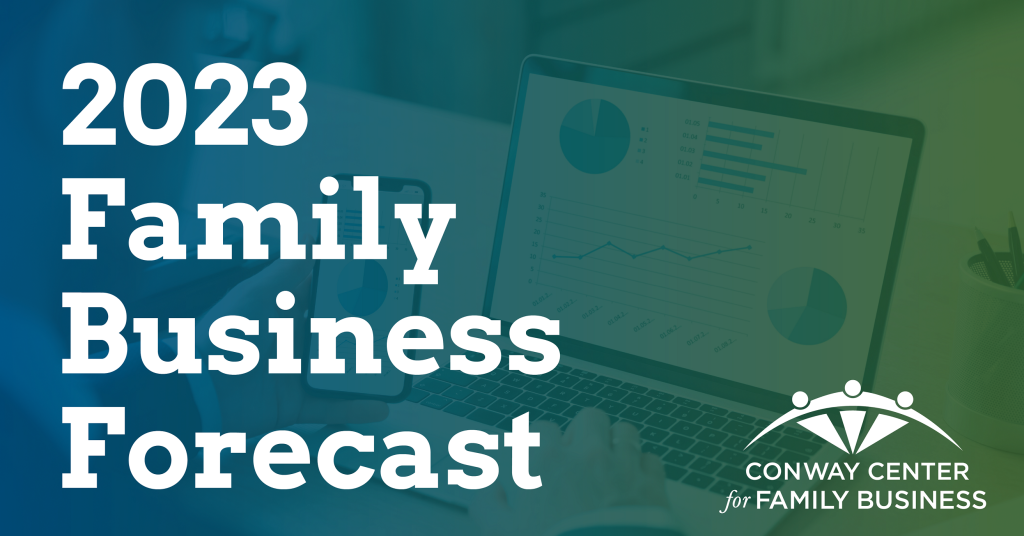 The 12th Annual Family Business Forecast survey, conducted by the Conway Center for Family Business, revealed that more than 8 in 10 Central Ohio family business leaders­ are satisfied with the current state of their family business at the midway point of 2023.
Six in 10 (63.5%) Central Ohio family business leaders predict their business will be in an even better place by the end of the year, and eight in 10 (82.5%) expect to increase hiring in the last half of 2023.
Encouraging responses about regional business performance show a positive outlook about the perceived direction of Central Ohio's economy, in part due to Intel's recent investment in the area.
The Conway Center fields the Annual Family Business Forecast to gauge the economic climate – including employment and related challenges – among family businesses in the region.
Family Businesses Struggle in Search of Qualified Candidates
While more than 8 in 10 family businesses plan to increase hiring for the remainder of 2023, "finding qualified workers" remains the single most significant business challenge reported by the majority (56.7%) of family business leaders surveyed.
Other challenges that emerged in the first half of 2023 included "Inflation" (33.3%), "Recession fears" (28.33%), and "Securing and maintaining clients" (26.7%).
"Family business leaders are not only looking to hire qualified applicants, but also quality individuals who fit a family firm's values and culture," said Bea Wolper, President of the Conway Center for Family Business. "Given the Family Business Forecast's encouraging report on hiring trends, our members are looking for new ways to bring in – and retain – talent in a business environment defined by rising costs and limited resources."
The Family Business Forecast found that a majority of Central Ohio family businesses will lean on online/other job listings (78.3%) and referrals (76.7%) and social media or advertising (56.7%) to help fill open positions.
Optimism rebounds for Ohio, National Economic Outlook
Sentiment for Ohio's economic outlook grew to 71.7% of family business leaders having a good impression of the state's business climate. Only four in 10 shared a positive outlook for the state in 2022.
Though more optimistic in 2023 compared to 2022, only 46.7% of Central Ohio family business leaders have a positive outlook on the U.S. business climate for 2022.
"Family-owned businesses are poised to take advantage of today's positive local economic environment," said Jill Hofmans, Executive Director of the Conway Center. "It's an exciting time for families to start and continue their dreams in Central Ohio and beyond."
Several factors contribute to a positive outlook for Central Ohio's economic future by locals. When asked why Central Ohio is a good place to run their family business, respondents cited:
Perceived economic direction (61.02%)
Cost of living/rent (57.63%)
Infrastructure (ease of access, convenient roadways, parking, public transportation, etc.) (50.85%)
Inter-business collaborative culture (33.90%)
Availability of business resources (30.51%)
Quality of workforce (25.42%)
More than 4 in 10 surveyed family business leaders also said Intel's investment in Central Ohio will have a positive impact on their business.
The Conway Center addresses the need for shared business resources and collaboration with educational programming and peer group facilitation through its relationships with service provider experts to help family businesses address challenges, including attracting, training, and retaining top talent.
Family Business Leaders Concerned about Rising Interest Rates, Inflation, and Supply Chain
New economic conditions have also stoked fears about a rising costs and a potential recession. More than 8 in 10 of those surveyed said federal interest rate hikes and inflation will have a negative impact on their family business for the remainder of the year. Additionally, 7 in 10 add that persistent supply chain disruptions and market volatility will also negatively impact business in the last half of 2023.
"Family businesses are resilient – by investing in people and culture, family businesses foster a sense of commitment that helps performance and employee retention during economic downturns," said Hofmans. "By maintaining the values of family business and using the great resources available in our region, we are confident that our members will continue in their successes and play an important role in Central Ohio's exciting economic future."
The 2023 Family Business Forecast survey was completed by 65 family-owned business leaders in and around Franklin County