Welcome from the President
Family-owned businesses deal with the same issues as other companies. However, adding "family relationships" puts a unique twist on how ownership, management and growth are handled.
All companies must identify and grow future leaders. In a family business, the best decision for the business can be at odds with family obligations. The Conway Center offers monthly educational programs, networking events, peer interactions and recognition programs delivered from a family businesses perspective.
I know that family business owners will find insight and inspiration at the Conway Center for Family Business. I invite you to take a closer look – and hope to see you at our next meeting.
Sincerely,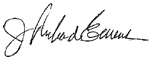 J. Richard Emens, President
Conway Center for Family Business