Welcome from the President
Family-owned businesses face unique issues to which the Conway Center provides solutions.
The best decision for the business can be at odds with the best decision for the family. The Conway Center offers monthly educational programs, peer interactions, networking events and recognition programs where ideas and solutions are shared from the family business perspective.
Family business leaders will find insight and inspiration with the Conway Center for Family Business. I invite you to attend one of our meetings to see the benefits for yourself.
Sincerely,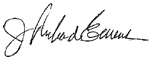 J. Richard Emens, President
Conway Center for Family Business
Please support the Conway Center
We are a 501(c)3 non-profit that provides educational resources and programs for family-owned businesses in Central Ohio. Your tax-deductible donation, large or small, helps us continue to provide relevant and timely information and solutions to family-owned businesses.