Family Business Success: Transferring Wealth in the Family Business Through Use of Real Estate Entities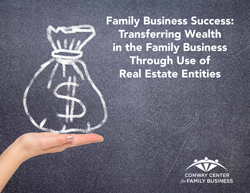 Owners of business enterprises often struggle with transferring ownership of an actively managed business operation to succeeding generations who will not be involved in the operation of the company. One way to partially solve this problem may be through the transfer of passive ownership interests in real estate that is used in the family business.
---
Family Business Success: Benefits of an Advisory Board and Family Council for a Family Business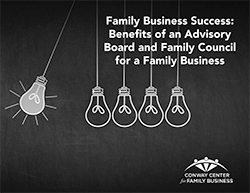 The key benefit of an advisory board is for individuals with relevant business experience to provide the CEO with objective, independent, caring advice on a continuing basis.
---
Family Business Success: Succession Planning for Next Gens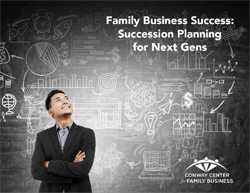 Today's job market is extremely competitive. Recruiting top talent has become one of the main challenges facing employers due to great candidates having multiple opportunities from which to choose. More than ever, employers need to differentiate themselves from the competition to stand out to job seekers.
---
Family Business Success: Tips and Tactics for Recruiting in a Tight Job Market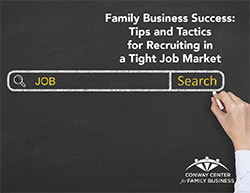 Starting the conversation with the senior generation in control of the family business is usually difficult but persistence is the key! Once started, the Next Gens need to keep the ball rolling by taking the appropriate follow-up steps. Don't give up! Once the process is completed, control of the family business will successfully move to the next generation and the family business and family legacy will continue.
---