Is family business booming? central ohio leaders are satisfied with their mid-year performance

The 11th Annual Family Business Forecast survey, conducted by the Conway Center for Family Business, revealed that 9 out of 10 Central Ohio family business leaders are satisfied with the current state of their family business at the midway point of 2022.
More than half (57.8%) of Central Ohio family business leaders predict their business will be in an even better place by the end of the year, and 65% expect to increase hiring throughout 2022.
Encouraging responses about regional business performance stands in contrast to overall concern about the direction of the national economy, and elevated concerns about recruiting talent, inflation and rising commodity costs.

Family Businesses Struggle in Search of Right Candidates
While 65% of family businesses plan to increase hiring for the remainder of 2022, "finding qualified workers" remains the single most significant business challenge reported by the majority (60.5%) of family business leaders surveyed.
Other challenges that emerged in the first half of 2022 included "Inflation" (50.9%), "Supply chain issues/delays" (49.4%), and "Commodity or materials cost changes" (37.0%).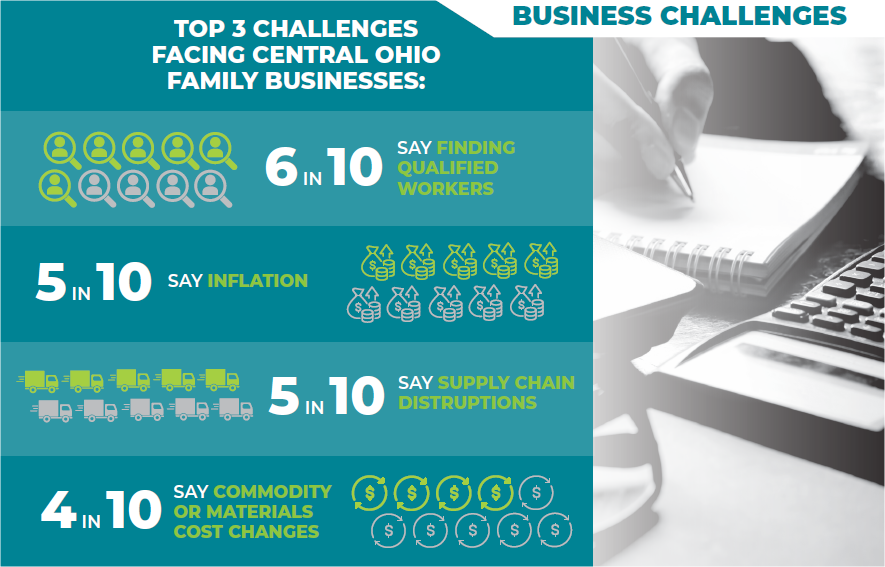 "Recruitment of qualified candidates who fit a family business's culture has consistently been a top pain point identified by the annual Family Business Forecast," said Bea Wolper, President of the Conway Center for Family Business. "Even more in 2022, our members are looking for new ways to bring in − and retain − talent in a business environment defined by rising costs and limited resources.
The Family Business Forecast found that a majority of Central Ohio family businesses will lean on referrals (82.5%) and online/other job listings (76.3%) to help fill open positions. More family businesses indicated use of social media or advertising (63.8%) as a method to source new hires than ever before in the annual survey.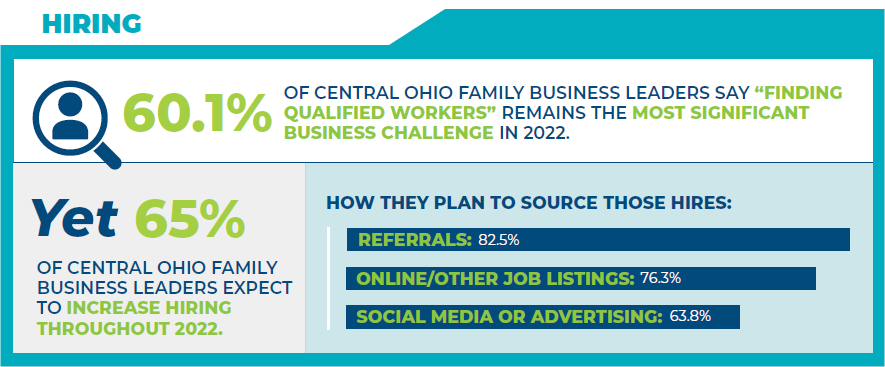 The Conway Center fields the Annual Family Business Forecast to gauge the economic climate – including employment and related challenges – among family businesses in the region.