Thinking of Buying? Selling?
KeyBank – a trusted Conway Center Service Provider – is hosting a program for family/business owners on September 10th. RSVP to elizabeth_triano-benkoil@keybank.com by September 3rd.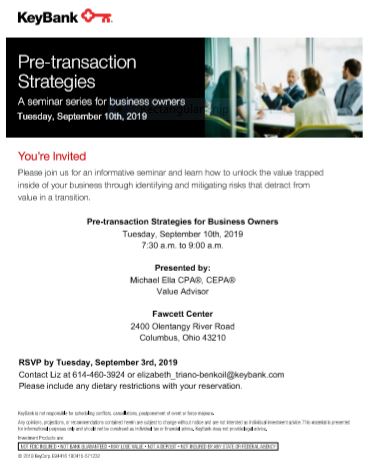 Got Interns? Want Interns?
Everyone knows the value of internships, but does your organization run a strong intern program that maintains a pipeline of highly qualified candidates for full-time roles? Internships and other forms of experiential education help students make a seamless transition to the world of work and are a perfect vehicle to increase retention rates, complete short-term projects, and identify future hires.
On October 18th, The City of Dublin, Ohio Dominican University, The Ohio State University, The Ohio Career Development Association, Ohio University, Columbus2020, The Columbus Chamber of Commerce, The Delaware Entrepreneurial Center and Ohio Wesleyan University will welcome Dr. Robert Shindell from Intern Bridge, the nation's leading experiential education consulting firm to share a newfound approach to internships based on in-depth research and proven strategies.
Dublin Total Internship Management Workshop
October 18, 2019 | 8:30am – 3:30pm
Registration Link- https://www.internbridge.com/dublin/
Please use the discount code EARLY10 to save 10% by August 31st!