At Conway Center for Family Business, we always tell our members that it's never too early to think about family business succession planning. Too late, for sure. But too early, never! With that in mind, where are you in your family business succession planning journey? These guidelines might help you to start thinking about how to start succession planning for your family business.
What is succession planning?
We define succession planning as the strategic process of transferring roles and responsibilities within the family business to new individuals, family or non-family. Typically, succession planning focuses on replacing executive and leadership positions within the business, though succession plans can be developed for any position within a company. For this reason, it is critical that conversations about succession planning are initiated and supported by those holding the highest executive positions in your family-owned business.
The Importance of Succession Planning
Establishing a business succession plan may be the single most important step to ensure the success and longevity of a family business, and more family businesses seem to be catching onto this fact. PwC's Global Family Business Survey recently found that the number of family businesses which formalized succession plans doubled in the years following the COVID-19 pandemic.
Still, succession planning is a sensitive topic within most businesses. The same survey found only 30% of family businesses have a formalized succession plan.
While succession planning can bring about strong emotions about the leading-gen's ability to guide a family business into the future and the next gen's readiness to assume leadership positions, the dangers of delaying the succession planning process are paramount.
Business Implications
A sudden departure, due to health or professional reasons, leave the family business scrambling to fill roles

Risks a business-wide leadership gap during a talent search

Rushed decisions can be ineffective, and ultimately expensive, decisions

Those assuming executive roles lack the skills and leadership to effectively step in

Lost trust among clients and stakeholders as business performance declines amid unexpected succession
Relationship Implications
Leading-gens feel "forced out" by the time succession is necessary
Leading-gens feel disappointment when next gens seek careers outside of the family business

Next gens resent the lack of a clear path forward for them to be included in the future of the family business

Next gens feel underdeveloped/underappreciated by the leading generation
Communication is always key. Succession planning may be a daunting topic to bring up at your next C-suite meeting, but it's a conversation that can set your family business up for long-term success by setting appropriate expectations and building a healthy culture. Thankfully, there are plenty of resources available to help you through the entire process.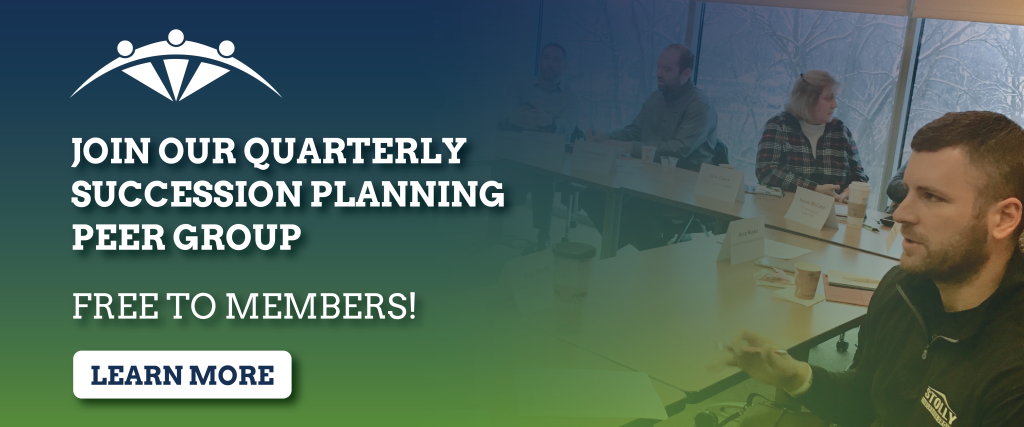 The Succession Planning Process
Start Early!
Start conversations early with family members and current employees to determine who might be the company's future

What are you entrance requirement for family members to join the business?

What are key roles in your family business and who fills them?

What does success look like in each of those roles?
Choose Your Successor – Privately
Who is your first choice?
Do you have a backup choice?
If a family member is not your first or back up choice, a non-family leader can absolutely step in until the next gen is ready.
Develop Your Successor – Publicly
Assess their skills and determine any gaps in their development. With that, create and implement a development plan to get them to where they need to be by the time your are ready to retire (or, better yet, before that time– see below!).
Nurture & Guide Your Successor
We say transferring ownership is the easiest part: sign a piece of paper and done! What you do with the following is harder and even more critical:
Make time for the succession of:
Management: help guide the next gen as they start to make day-to-day decisions for the company. Let them make decisions – that may sometimes fail – while you are still there to help them work through it.
Leadership: this is critical for the vision of the company and may include several leaders in the company, not just the heir apparent. Teach them how to work on the business, not just in it.
Authority: You must step back and let the employees see the next gen as "the one in charge." This is difficult with the leading gen is still working in the business, so you need to resist the urge problem solve rather than have the next gen handle it.
Relationships: Introduce the next gen to the sales/customers/vendors to be sure everyone is comfortable working with each other.
Knowledge: Write down family history and traditions and include the trials and tribulations that got the company to where it is today. Your next gen needs to know enough about the business and can't unless that knowledge is passed along.
Values and Respect: The successor needs to have "values" congruent with the leading gen. The role of the successor must be respected, and the values of the founder, company, and next gen need to jibe. This includes the transfer of respect of customers, clients, vendors, employees, and community.
Create a management succession plan
Succession happens no matter what, so planning for different scenarios is important. Account for the 5Ds when working out your plan:
Death – we are all going to die! Plan for it in thoughtful and proactive ways.
Departure – often a voluntary strategic plan to move out of the business (e.g., retirement).
Disability – accidents, injuries, and illness happen to the best of us.
Divorce – this can cause pretty significant rifts in family-owned businesses.
Dissolution – selling the business or bankruptcy can happen, too.
Even if you don't plan to retire for a long time, unexpected situations can arise so you need to feel confident in knowing who can take over and run the business at a moment's notice. This is where your key roles and identifying gaps work from earlier comes into play!
Protect Yourself and the Business
Life Insurance – this is a transfer vehicle that is important to your family business
Buy-Sell Agreements – these are critical!
Pre-Nups – important document to protect the family business
Plan Your Financial Future
You want to retire but don't want to bankrupt the business. This means your personal estate plan must be intertwined with your business succession plan.
What is your current income and your projected income at the time of retirement?
When you retire, will you be able to meet the financial needs of your company?
Consider Estate Taxes and Trusts
These are items to discuss with your accountant and attorney, and can make the succession process significantly smoother:
Irrevocable life insurance trust
Revocable living trust
Join a Conway Center Peer Group!
Whether you're a next gen or leading gen, we have a peer group for you. You'll learn from others who are in the process and/or who have been there, done that. If you are early in your family business succession journey, you'll start feeling comfortable as you learn the "language" of succession planning and all that it entails.
Remember, It's Never Too Early to Start
Need help? Let us know in the comments or reach out directly to info@familybusinesscenter.com